Famous World War II codebreaker Alan Turing is to feature on the new 50-pound bank note, the Bank of England announced Monday.
英格兰银行周一宣布,二战时期著名的电码译员阿兰·图灵的画像将出现在新版50镑纸币上。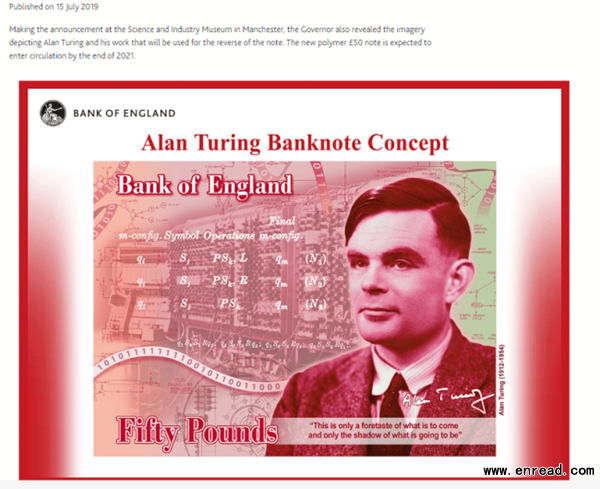 The 50-pound note will be the last of the Bank of England collection to switch from paper to polymer when it enters circulation by the end of 2021.
Computer pioneer Turing is famed for his work during the war at Bletchley Park where he cracked German codes in what was to be vital for allied1 success in the war. After his wartime work, he was pivotal in the development of early computers at the University of Manchester.
Bank of England governor Mark Carney said "Alan Turing was an outstanding mathematician2 whose work has had an enormous impact on how we live today."
"As the father of computer science and artificial intelligence, as well as war hero, Alan Turing's contributions were far ranging and path breaking. Turing is a giant on whose shoulders so many now stand," Carney said.
The Bank of England said Turing have left an impact on both science and society today.